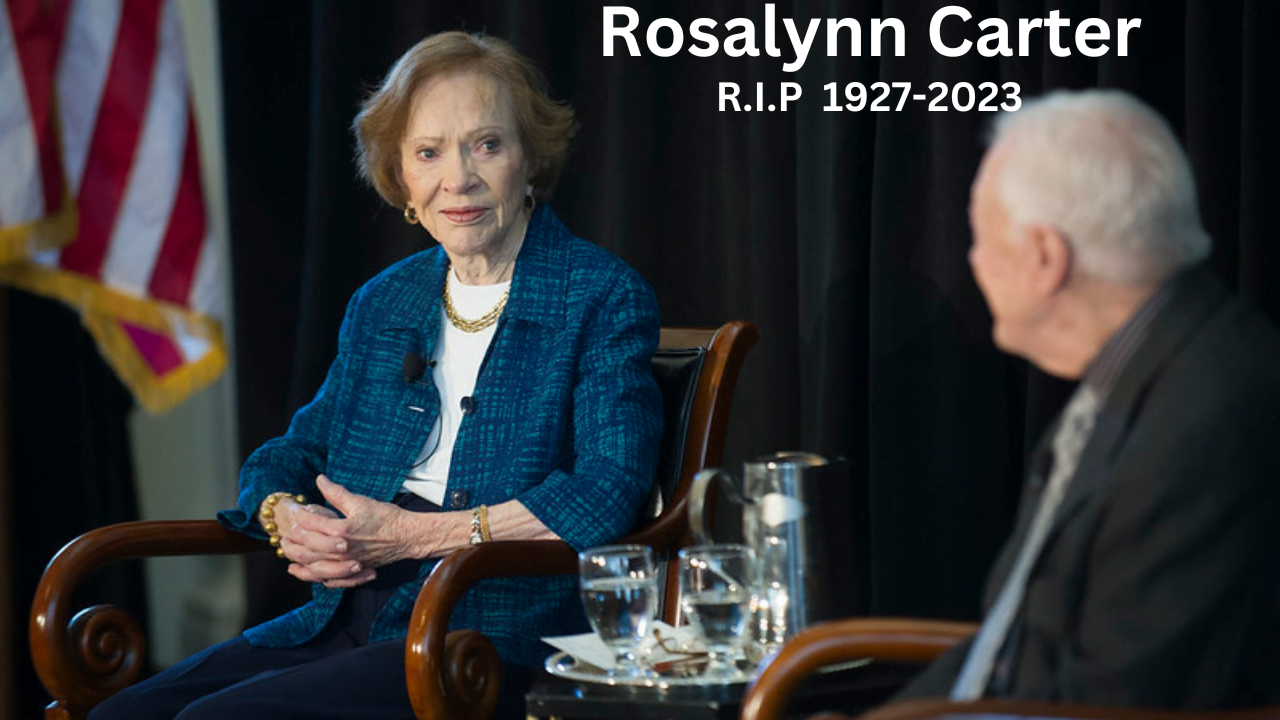 Former First Lady Rosalynn Carter, a stalwart advocate for mental health and a pivotal figure in American politics, passed away on Sunday at her home in Plains, Georgia, surrounded by loved ones. The Carter Center confirmed her death at the age of 96, marking the end of a life dedicated to humanitarian efforts and political influence.
In a poignant statement, former President Jimmy Carter expressed the profound impact of his lifelong partner: "Rosalynn was my equal partner in everything I ever accomplished. When I needed it, she offered me thoughtful advice and uplifting support.. As long as Rosalynn was in the world, I always knew somebody loved and supported me."
Beyond her role as First Lady, Rosalynn Carter was celebrated for her political acumen, down-to-earth charm, and tireless efforts on behalf of various social causes, including health care resources, human rights, and social justice. Her advocacy extended to mental health issues, and she played a crucial role in shifting perceptions about the possibility of recovery from mental illnesses.
In recent years, the Carters faced the challenges of Rosalynn's dementia diagnosis, but their commitment to each other and their humanitarian projects remained unwavering. The couple, recognized as the longest-married presidential pair in U.S. Throughout their story, they remained committed to making a real difference, actively supporting causes like Habitat for Humanity. Their dedication shone through as they tirelessly advocated, raised funds, and served as some of the most dedicated hands-on construction volunteers."
Rosalynn Carter's life began in the heart of Plains, Georgia, back in 1927, where she took her first breath and started her remarkable journey. Despite early hardships, including the loss of her father at 13, she emerged as a resilient force. Her marriage to Jimmy Carter in 1946 marked the start of a dynamic partnership that navigated Navy life, political ambitions, and a commitment to public service.
During Jimmy Carter's political ascent, Rosalynn's influence was palpable, earning her recognition as his most influential political adviser. Her grassroots campaigning style and genuine connection with voters played a pivotal role in his successful bid for the presidency in 1976.
As First Lady, Rosalynn Carter defied convention, actively participating in Cabinet meetings, advocating for mental health, and serving as the president's personal envoy to Latin American nations. Despite the challenges of Jimmy Carter's presidency, including his defeat in 1980, Rosalynn remained resilient, pledging to speak out on issues close to her heart.
The post-White House years saw Rosalynn Carter's literary contributions, with memoirs like "First Lady From Plains" and three books on mental health. Together with Jimmy, she founded the Carter Center in 1982 and the Rosalynn Carter Institute for Caregiving in 1989, leaving an enduring impact on human rights and caregiving initiatives.
Tributes from leaders across the political spectrum poured in, acknowledging Rosalynn Carter's grace, integrity, and commitment to destigmatizing mental health. President Joe Biden, former President Donald Trump, former first lady Michelle Obama, and others honoured her transformative contributions to the nation and the world.
As the nation mourns the loss of a compassionate leader, ceremonies celebrating Rosalynn Carter's life will be held in Atlanta and Sumter County, Georgia, with her funeral scheduled for Wednesday in Plains. In her legacy, she leaves a blueprint for purposeful living and unwavering advocacy for the betterment of society.